Children's Worker Training
If your church is looking for specialized training of those that work with your children, then look no further than Training Teachers! The founder of Master Clubs, Bro. Abb Thomas, has years of experience that he could lend to the staff and volunteers in your ministry and offers three specific Teacher Training series as listed below. We encourage your church to contact Bro. Abb by calling 513-313-5610 or contacting him through email This email address is being protected from spambots. You need JavaScript enabled to view it.. Visit the website at trainingteachers.org today to find out more about the ministry.
Teacher Training I covers the following topics
The Style of Great Teachers

The Essential Learning Process

Building the Need for the Lesson

What About the Spirit of God?

Techniques of Teaching

The Discipline of Children Today
The Teacher's Role Defined

Application (50% of Your Lesson)

Too Much Is Just Too Much!

The Teacher's Mannerisims

Determining the Students Response

Putting It All Together
There are two additional training series: Teacher Training II and Sunday School Rejuvenated. Both are 4-hour sessions conducted in local Independent Baptist churches. Contact Bro. Thomas for more information.
About Abb Thomas

Abb Thomas has been training teachers for over 40 years! His passion is training those who teach children, teens, and adults to so clarify the Word of God to their students that the students cannot possibly miss what God has for them.
Abb graduated from Tennessee Temple University (TTU) in 1974. In 1969, he was asked by Dr. Lee Roberson to direct the teenage ministry of Highland Park Baptist Church (HPBC) while still attending TTU. A year later he also took on the role of Children's Ministry Director.
It was at HPBC that Abb began compiling the children's training course that would later be known as "Master Clubs." This ministry is a nine-year discipleship ministry for 3 year olds through 6th grade. Master Clubs is now being used in hundreds of churches across America. Abb and Janice were at Highland Park for twenty years until 1990 when they moved the Master Clubs ministry to First Baptist Church in Milford, OH, under the leadership of Dr. Charles Keen and now Dr. Bill Duttry. The ministry is still thriving there today. Having turned Master Ministries and Master Clubs over to an extremely capable staff in 2010, Bro. Thomas has dedicated the rest of his life to helping lay teachers enhance their teaching abilities.
Training Teacher Resources
Children's Church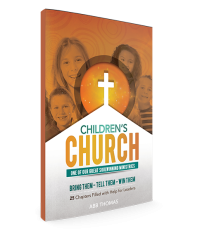 Children's Church: One of Our Great Soulwinning Ministries is a book designed to grow your children's ministry workers. This group of church servants are often out of sight and out of mind, but they are in the heat of a spiritual battle for the hearts of children. Our pulpits in America and our mission fields are full of former "bus kids."
Teaching Children God's Wonderful Word
I loved doing this book for those who teach the children. So many teachers I meet almost every week fail to read. Some actually have little desire to put in the effort to improve. How about a book that takes you three minutes a week to find a new idea for teaching children? Would you give God three minutes a week to improve your teaching?
Sharing Christ with Children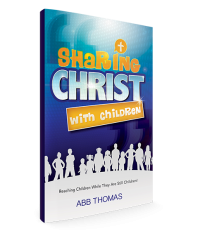 I love to teach church teachers and workers about the great value of reaching children and teens. The ideas here come from forty years of ministering to children and teens. It's titled for children, but the same ideas apply to the teenage arena. The forty-one chapters in this 239-page book will give you the organization, the Biblical foundation.