Across the nation, Pine Car Derbies are springing up in hundreds of Baptist churches. What is a Pine Car Derby? It could be one of the most exciting days in your ministry! Kids thoroughly enjoy the derby, and many parents love it more than the kids. Participants take a kit which consists of a block of wood, four wheels, and four nail axles, then transform it into an amazing racing machine. Many of our churches have separate categories for the adults as well (the dads will be the biggest and most competitive "kids" there).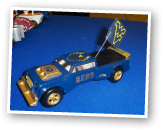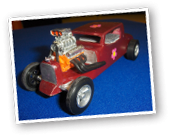 If you have never hosted a derby at your church, you can find more information on our web pages, which even includes a free Pine Car Derby Race Day Planning Kit containing blueprints to build your own wooden track. Even if you cannot do it this year, begin today to plan for next year. We have all the awards you need to make your day a success, such as posters, ribbons, and souvenir badges. Our home church has even used the derby as a fundraiser for the children's ministry by asking the kids to get sponsors for their car-this could be the tool you need to raise funds for your Club program, VBS, or camp.
Please call us if we can help you with other ideas.Kids order their pine car kits through us, build their car at home, then race it at their church! Some churches have even used this as a fundraiser for their Children's Ministry or Club program.
Our desire is to help you plan the most fruitful and fun day of your year. As part of this, we have put together many valuable resources into one Pine Car Derby Planning Guide. All you have to do is download this tremendous resource for your own personal use. This 21-page Planning Guide contains pictures, illustrations, job descriptions, sugestions for set up, and much more!
Build your own pine car with this kit. This pine wood block is carefully selected, fine-grain soft wood for easy shaping and sanding. Create your own original design with the Master Clubs Race Car Kit. This kit includes four wheels; four all-metal, nail axels; one block/wedge of wood; and construction instructions.
Derby Track and Accessories
If your church has the finances to purchase a track, or if your church can jointly purchase a track with other churches in your area, Master Clubs uses the MicroWizard aluminum track. You may visit their website at microwizard.com.
MicroWizard is pleased to provide precision aluminum and maple laminate race tracks for Pinewood Derbies. Their tracks are designed with strict attention to engineering details. The tracks are tested at the factory and are guaranteed to maintain precision racing surfaces. Considerable emphasis has been placed on ease of assembly.
To offer the best tracks, you have to start with the best material. Their all-aluminum 'Freedom Series' tracks are extruded on their own custom designed die from 6061-T6511 aluminum. They specified this material for its resistance to corrosion and its relatively high surface hardness. You'll absolutely love their track! (MircoWizard aluminum track featured here)
You will also enjoy using their racing timers and placement system! Take a look at their timers which are compatible with almost every track on the market today.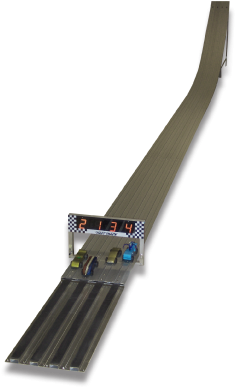 GrandPrix Race Manager is an application that will help you manage your Pinewood Derby, Space Derby, Sailboat Regatta or similar race. GrandPrix Race Manager handles registering racers to determining award winners, making your race more organized, shorter and enjoyable for all. This software supports these great timers: Fast Track, NEWBOLD products, RaceMaster IV, SmartLine, The Judge, and Timestopper.
RaceFX™ is a sound effects player which will add excitement to the racing atmosphere of your Pinewood Derby®, Space Derby®, Raingutter Regatta and other similar races. RaceFX is very easy to use and is highly customizable.
RaceFX is not just for use at races! It can be customized for any circumstance where easy triggering of sound effects is required.

Derby Promotional Materials
We also offer a 5.5x8.5 promotional flyers to help you advertise for your Pine Car Derby. They include a full-color front with a customizable black and white back.
You can use the Pine Car Derby Promotional Poster to help you increase community and church awareness of your special outreach or just-for-fun event. This item is an 11x17 full-color poster printed on high-gloss paper.

We offer a full-line of awards to give your Pine Car Derby that special touch. You can purchase these 8.5x11 full-color certificates from Master Ministries. We carry certificates for Best Paint Job, Sleekest Design, and Most Creative.