Places in the WORD - NT Instructions
Places in the WORD has been designed to help you learn how important places and events in the Bible relate to each other in a fun and exciting way.
Playing the Game. Your goal is to be record the fastest time by correctly placing all 15 Place cards and all 15 Event cards. Click "Start" to begin play. Click "Play Again" to see all of the correct answers together.
Phase One. After clicking "Start," your time will begin. In Phase one, a Place card will randomly appear on the left hand side of the screen. You will then have to look at the map to figure out the Letter that matches your Place card. Then click the correct Letter card. Continue until all 15 Place cards have been correctly placed on the corresponding letter card.
Phase Two. During this phase you will not need to look at the map. An Event card will randomly appear at the left hand side of the screen. You will need to place the Event card on top of the corresponding Place card. Phase Two will continue until all 15 Event cards have been correctly matched.
Places in the WORD - NT Study Map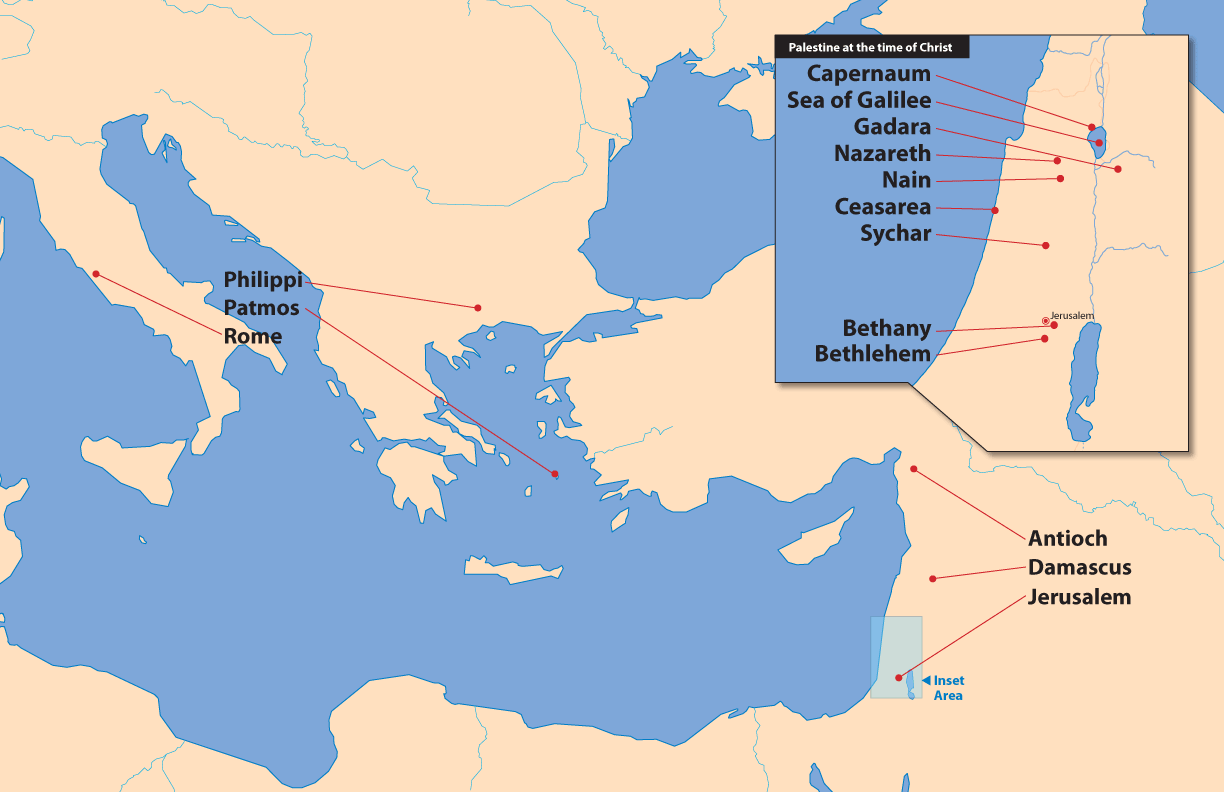 Places in the WORD - NT Events
| | |
| --- | --- |
| Place | Event |
| Bethlehem | Birth of Jesus in a stable |
| Caesarea | Cornelius and his household are saved |
| Jerusalem | Death of Jesus on the cross |
| Antioch | First called "Christians" |
| Gadara | Jesus cast many demons out of a man |
| Capernaum | Jesus heals Centurian's servant |
| Sychar | Jesus speaks with the woman at the well |
| Sea of Galilee | Jesus walked on the water |
| Bethany | Lazarus brought back to life |
| Rome | Paul was imprisoned and martyred |
| Damascus | The Apostle Paul converted |
| Patmos | The book of Revelation written by John |
| Nazareth | The hometown of Mary, Joseph, and Jesus |
| Philippi | The jailer and his family are saved |
| Nain | Widow's son raised from the dead |